The long, hard road to rock'n'roll success: 'We're essentially skint'
With music sales in decline, it's often said that the only way for bands to make money now is through touring. But is that true? Marc Burrows talks to fellow musicians about the hard graft life on the road – and how the thrill of performing sustains them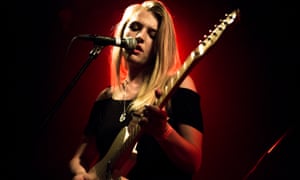 Making a living as a musician is hard. Justin Bieber might sleep on a mattress stuffed with dollar bills in a house made of Rolex watches and Ferrari parts, but down at the other end of the scale, for working performers, life can be tough. Sheffield duo Slow Club have released three increasingly successful albums and sold out venues such as London's 2,000 capacity Shepherd's Bush Empire. Their videos have been viewed more than 3 million times on YouTube and their songs playlisted on BBC 6 Music, yet singer Rebecca Taylor was essentially homeless for five years, bouncing between friends' sofas in London, her parents' house in Sheffield and hotel rooms she'd have to share with the rest of the band. "The toll it takes on your mind is the worst bit," she says. "You're constantly feeling like a burden, constantly feeling you're not pulling your weight. It's a low-income job. You can do it, but it's a compromise. What a lot of people take for granted – the security of a wage, a pension, and anything around it, like a holiday – you just can't have that."
For every rock'n'roll millionaire there are thousands of talented artists scratching out a living. The choice is a tricky one: to establish a career takes an enormous amount of work and time and essentially prevents you from having a stable, salaried job. At the same time, especially for new artists, it has virtually no income of its own, meaning it's impossible to begin a career in music without a second income of some sort, which will always have its own commitments that prevent a musical career progressing. The cycle is difficult to break.
When the Leeds punk band Brawlers scored a deal with a major booking agent after their second gig, they assumed their career was about to take off. They weren't prepared for exactly what that meant. "We got drunk that night thinking, 'This is amazing, we've made it,' " says singer Harry Johns. "Then our agent's job becomes, 'This is a small punk band, just get them out.' So every month we'd get an email through saying you're going to go here, there, playing this… but we're a tiny band of course, so we're getting £50 a night. It costs £130 to do anything a night when you include paying for petrol and a van." Brawlers were gaining momentum, getting radio plays from XFM and Radio 1, and coverage from all the right punk press, but the four members of the band were unable to earn money from it.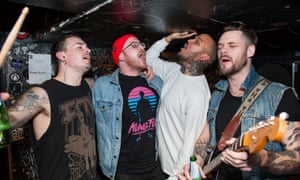 A year later they had sacrificed girlfriends, houses, and even their original drummer to the lifestyle of a working punk band, constantly touring and playing anywhere between 15 and 30 gigs every month. They had a growing reputation as a ferocious live act and a well-received album in the shops, but things had barely improved. "After a year of smashing your head against the wall, you're now getting £160 a gig but it's still costing £130, so we're making £30 profit. There's four of us, plus a driver, and a guy who does merch and helps guitar tech – that's a small crew. We're giving up a day where we could all have earned £40-£60 working in a bar or an office to make £4.50 each."
It doesn't sound like much of a life. "My rent's going to come out in four or five days and I don't know how I'm going to pay it," says Johns. "I might be able to afford to cook a nice meal for my girlfriend tonight. I might. We just look forward to going on tour where we don't have to spend any money." In the meantime? "Me and our drummer convinced my mate to let us live in his basement. We'll share a shower and kitchenette and both sleep in sleeping bags on the floor."
I'm in a band myself, The Men That Will Not Be Blamed for Nothing. We have a healthy, if rather niche following. We've just had our most successful year yet, releasing our third album to relative acclaim ("probably the maddest, most original punk band around" said Louder Than War's 9/10 review), playing an entire summer of festivals, including Glastonbury, Bestival and Secret Garden Party, and embarking on a two-week UK tour, selling roughly 100 tickets a night in smallish venues, and five times that in London. We don't have a label or management; we're a cottage industry and meet all the costs for recording and manufacture ourselves, but on the other hand, keep 100% of our profits.
Last year was a successful one, but in the end, once everything had been paid off, accounting for record sales, online streams, merchandise sales, festival fees and gig tickets, the band made £843 each. Most of that will be spent on plane tickets and visa fees for a three-week US tour which, if we're lucky, will just about break even. A year of great experiences, granted, but one for which we'd all given up paid work and sacrificed time with our partners and families. Which is fine for us, because we have other jobs and understanding partners, but seems to prove that playing in a band simply can't work as a career in itself. Can it?
Taylor has been in Slow Club for a decade now, having started in 2006 when she was still at school. She's currently working on a solo project under the name Self Esteem, while working towards a fourth Slow Club album. Music is her full-time job. Between money coming in from royalties and publishing, merch sales and, crucially, money received from syncs – where their music is used for adverts or TV – Taylor and guitarist Charles Watson are able to pay themselves a monthly salary. It's not much – you'd earn more working full time in McDonald's – but it means she can get by.
She adds: "We didn't have an out-and-out record deal until this last album, but that money pays for the musicians we take on tour and record with. The two of us in the band are the lowest earners by a mile. Eventually you start sitting back a bit and saying 'Is that fair?' and, well, it's not fair. But that's how it is. We're lucky, we found players who are lovely. They could ask for a lot more money, but instead they'll do shit for free, not often, but they will. Our heads are only above the tide because it's only two of us that write, we've done syncs pretty consistently and we're Scrooges. We've got nothing. I am essentially skint. I guess I've developed into a human being that's fine with that."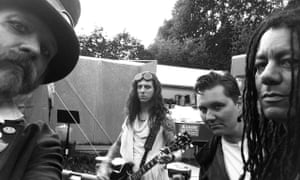 The music industry has been in steady decline since the early 2000s as illegal downloads and then the rise of streaming took gargantuan chunks out of record sales. The situation is not improving, with global revenue for music dipping below $14bn for the first time in 2014. It was $40bn in 1998. Understandably this hits artists not shored up by the big labels the hardest. Nothing in music pays what it once did, and the decline will likely continue.
For Taylor, living so close to the line means constant anxiety about the future. "I live with this fear that it'll all end and I'll have to get a real job. I've now done 10 years of being this useless baby-woman who has no skills except that I can sing. You're in this perpetual state of being a teenager, and that's terrifying. I think a lot about it. I'm obsessed with it – the idea that one day I won't be able to do this. Then you get a call saying 'They've put your song on an internet advert and a few grand's coming in'. I live my life like that."
Dan Wale, finance manager at DEF, a management company that looks after the affairs of huge sellers like Moby, The Knife and Röyksopp, as well as completely new acts, says artists need to start letting go of the idea of music as a sole occupation in itself. "A 'career' in music is a pretty rare thing," he explains. "It has after all been a fairly small window in time whereby a musician has been able to make very large amounts of money from their craft, and even then it's only been a fraction of the overall number of people doing it – all of them for the love of it."
"We're in an industry where over 90% of releases never recoup the money spent on them," he says. "The industry underwrites failure as a necessary part of its operation and looks to the supercharged successes of a very small number of artists to cover the losses. That's pretty dysfunctional. The number one challenge facing a new artist is a financial one: become profitable or cease to exist in the medium to long term."
Wale believes that by thinking on a more realistic scale, and with advances in technology, it is still possible to make an income from music. "I think now, more so than ever, it's very possible – especially for a solo artist – to make a cottage-industry scale success without any outside help whatsoever. Obviously this has been facilitated greatly by the internet and the emergence of online networks, fan-supported releases and a number of great discovery platforms. All the tools are really there for someone to go out and do it themselves."
However, he admits that if an act wants to make playing music their sole living, the traditional industry model must kick in at some point. "Unfortunately the tipping point to becoming something larger still depends on the ability of an artist to obtain a recording/distribution deal and the commitment of marketing money that entails – along with access to the routes to market that they still dominate," he says. It's easy to see how a musician can become locked into the failing music industry model.
Playing in a band, performing of any type really, is a calling, not a career, clearly. It can be hyper-successful, but for most people it involves sacrificing security and comfort for a lifestyle that is as frightening as it is exciting. To some it must seem like a baffling choice – my Dad is constantly bewildered that I give up all my free time for something I basically don't get paid for – and it's tough admitting to my girlfriend that every bit of my annual leave that year is going on recording and touring… again. But then, standing onstage at Glastonbury with a rammed tent of 300 people singing along to a song I wrote in my bedroom – that's when it feels more than worth it.
"I feel like I'm living it. I'm doing it," says Taylor, "and that all adds up to enough to say it's fine that I don't have a car, or I don't go to Tenerife every year for two weeks. I'm happy with it. I'm actually just really thankful. If I'm not a singer in a band, then I'm dead."
Since you're here …
… we've got a small favour to ask. More people are reading the Guardian than ever, but far fewer are paying for it. Advertising revenues across the media are falling fast. And unlike some other news organisations, we haven't put up a paywall – we want to keep our journalism open to all. So you can see why we need to ask for your help. The Guardian's independent, investigative journalism takes a lot of time, money and hard work to produce. But we do it because we believe our perspective matters – because it might well be your perspective, too.
If everyone who reads our reporting, who likes it, helps to support it, our future would be much more secure.
JUST TRYING TO MAKE A LIVING AT SOMETHING I LOVE
Comments
comments